When fitted by our installation team, your Firestone Rubber Roof is guaranteed for 10 years!

High quality EPDM membrane
Firestone RubberCover™ EPDM membrane is a 100% cured single-ply roofing membrane made of a Ethylene-Propylene-Diene Terpolymer offering unique features and benefits.
For decades, Firestone EPDM rubber roofing membranes have been successfully installed on hundreds of thousands of commercial and industrial roofs worldwide. Today, the high-performing Firestone EPDM membranes are also available to cover small residential flat roofs.
Flame-free and easy installation
Installation of Firestone RubberCover™ EPDM membranes is easy. It requires no flame as the membrane is always fully adhered to the substrate using a cold applied adhesive.
Environmentally friendly
Firestone RubberCover™ EPDM is an inert material with limited environmental impact both during manufacture and installation and high durability compared to other roofing membranes. In addition, Firestone's EPDM manufacturing facilities have received ISO 14001 certification for their environmental management system.
Superior durability
Firestone RubberCover™ EPDM membranes offer unmatched resistance to ozone, UV radiation and high or low temperatures. Our EPDM roofs are guaranteed against leakages for 10 years when installed by our installation team. You will even receive a certificate direct from the guarantors. Over a billion of square meters of roof installations worldwide are a testimony of Firestone EPDM membrane's proven performance.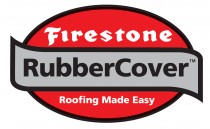 Very low life-cycle cost
Firestone RubberCover™ EPDM membranes require no or only little maintenance once installed. This feature, combined with the membrane's inherent durability and competitive installed cost, result in a very low lifecycle cost.
High flexibility and elongation
Firestone RubberCover™ EPDM membranes remain highly flexible even at low temperatures, enabling year round installation. The membrane can also elongate over 300% to accommodate building movements.
ALL ORDERS OF FIRESTONE RUBBER ROOF COME WITH TWO FREE CONTEMPORARY AIR VENTS!