Educational Buildings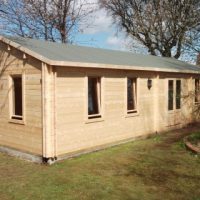 Cost effective
We can build affordable, additional classrooms at a fraction of the cost of traditional bricks and mortar classrooms.
Bespoke
We have worked closely with a number of local schools and have developed an understanding of the needs of creating additional teaching space. We can adapt our range of interlocking log cabins to a school's individual requirements, in both size and optional extras, such as windows and insulation. We can also provide undercover areas such as gazebos and pergolas to allow teaching outside the classroom.
Durable
They are built using 44mm logs and double glazed as standard. Our log cabins are built using interlocking timbers to form a rigid and robust building that will last for years.
Energy efficient
Energy efficiency is a key design feature in our log cabins. We have developed a 'twin skin' system which creates a cavity between the exterior and interior wall. This allows for additional insulation to be installed, ensuring it can be used throughout the year.
For a free quote for your classroom, contact us today. We are happy to advise on the correct building for your school's needs, whether it is a classroom, offices, or just additional storage space. We understand that cost is an essential consideration and our bespoke building services offer some of the most competitive prices in the South East. A range of our buildings can be seen on our show sites. We also offer a free site visit consultation.